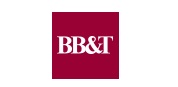 BBT
1872
BBT Overview
BB&T (Branch Banking & Trust) is a large domestic owned bank in the United States. It delivers services in Washington D.C and 12 U.S states and as sourced from the FDIC in 2012 has 1789 branches. Its largest branch presence is in Virginia (380), North Carolina (368), Florida (270), Georgia (... read more
BBT Discussion
Q: What is your best cd rates

Q: What are your current CD rates ?

Q: I have spent at least 20 minutes searching for your CD & IRA rates online Why are they so invisible and impossible to access ? Is it because they are so very low ?

Q: what is the current rate of interest for a 5 year IRA?

Q: What are your Traditional IRA rates?

Q: Which of your CD offerings are set to where I can withdraw money at any time if the need arises? Would the 7 day be my best choice? Can withdraw without penalty after 7 days, as many withdrawls as needed?