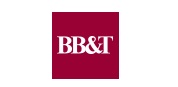 BBT
1872
BBT
BB&T (Branch Banking & Trust) is a large domestic owned bank in the United States. It delivers services in Washington D.C and 12 U.S states and as sourced from the FDIC in 2012 has 1789 branches. Its largest branch presence is in Virginia (380), North Carolina (368), Florida (270), Georgia (174), Maryland (129) and South Carolina (116). Its origins are from 1872 and are currently a public company that is listed on NYSE. It services its retail customers with 2,483 ATMS (2011 Annual Report) and provides traditional banking products including checking, savings and CD accounts to its customers. In particular savings products include online savings accounts, money market deposit accounts and 529 savings while CD products include Treasury Linked CDs, Stepped Rate CDs and Standard CD accounts.
Source: http://www.bb&t.com
BBT Services
Personal Banking
Checking Accounts
Savings Accounts
Cards
Credit Cards
CDs
Mortgages
Home Equity Loans
Personal Loans
Investments
Retirement Plans
Insurance
Individual Investments
Savings Accounts
CDs
IRAs
College Savings
Market-Linked CDs
Annuities
Bonds
Mutual Funds
Stocks
Exchange Traded Funds
Managed Money Accounts
Asset Management Account
Unit Investment Trusts
Brokerage
BBT Discussion
Q: What is your best cd rates

Q: What are your current CD rates ?

Q: I have spent at least 20 minutes searching for your CD & IRA rates online Why are they so invisible and impossible to access ? Is it because they are so very low ?

Q: what is the current rate of interest for a 5 year IRA?

Q: What are your Traditional IRA rates?

Q: Which of your CD offerings are set to where I can withdraw money at any time if the need arises? Would the 7 day be my best choice? Can withdraw without penalty after 7 days, as many withdrawls as needed?