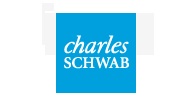 Charles Schwab
Charles Schwab Interest Rates
Charles Schwab Overview
Charles Schwab was established in 1971. Today it has 14,000 employees across the world including a significant presence in the United States. It is a specialist banking company that is aimed at high net worth customers, both personal and business. The range of products that it offers includes invest... read more
Charles Schwab Discussion
Q: Would like details on small business account structure.

Q: I'd like to talk about opening an account with caves and the advantages of doing so. John

Q: What is the best way to open a business checking account with Schwab?

Q: I am interested in online business banking for my sole proprietorship. What are the fees associated with an online business checking account? What documents are required to open one? Is online bill pay included? When using online bill pay, does the payee name show in my bank account transactions for all payments including those paid by mailing a check (ie, small local vendors)? Can I download transactions from my account into quicken? Can I transfer funds between my business and personal accounts? Can I have two business accounts and transfer funds between them?
Charles Schwab Discussion Activity