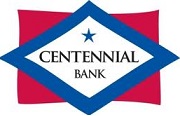 Centennial Bank
1903
Centennial Bank
Centennial Bank is part of Home BancShares which is a publically listed company. It has bank branches in the United States in Arkansas, Florida and Alabama. In total there are 210 branches. There is also a wide network of ATMs. Banking services are available for individual and business customers. The range of products that it offers includes checking accounts, savings accounts, CDs, money markets, IRAs, retirement services, loans, home loans, safe deposit boxes, money transfers, trust services, investments, and insurance.
Their head office address is: 620 Chestnut Street, Conway, AR 72032, United States
They can be contacted by telephone: 501-328-4663
Email: info@homebancshares.com
Source: https://www.my100bank.com/
Centennial Bank Services
Personal Banking
Checking Accounts
Savings Accounts
CDs
Money Market Accounts
IRAs
Retirement Services
Loans
Home Loans
Safe Deposit Boxes
Money Transfers
Debit Cards
Insurance
Trust Services
Investments
Individual Investments
CDs
Money Market Accounts
Stocks
Bonds
Mutual Funds
Variable Annuities
Alternative Investments
Centennial Bank Discussion
Q: What is the interest rate for savings account?